Climate change concerns, carbon taxes and rising grid electricity rates are driving massive investments in renewable energy generation. Manufacturing advances are reducing the cost of solar panels, storage and electric vehicles accelerating the trend for distributed generation, microgrids and EV charging networks.

Cachelan provides SmartGrid energy portals to monitor and control unattended sites to ensure equipment can be maintained for maximizing output over their 25+ year lifetime. Cloud technology enables cost effective portals to be custom configured and quickly installed. Internet access by browser with no software to install or maintain reduces operating costs.
Cloud Technology
A gateway installed at each site communicates with the equipment to send data to the Cachelan servers where it is stored and processed. Owner access is from a browser on a PC or mobile device with fault warnings sent by email. No software needs to be installed or maintained because portals are hosted on Cachelan servers where new features and upgrades are added. Data is stored for the lifetime of the system for performance analysis and data download. Manuals and design documents can be retrieved online to expedite O&M.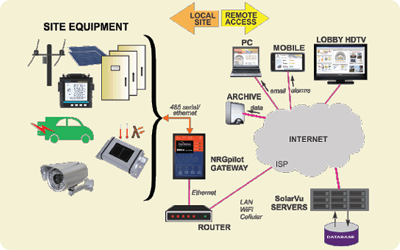 Thousands of solar PV generation sites with SolarVu® energy portals have been installed to monitor solar array performance displaying power, energy, revenue, status and trends on a PC or mobile device. SolarVu® can be used on systems of any size with equipment from many different vendors. Receive daily output reports and fault alarms by email. Use Analyzer tools for troubleshooting problems.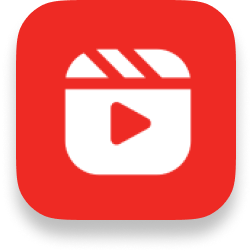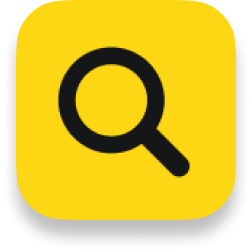 Pilot projects for evaluating emerging technologies like renewable energy storage, solar car ports, microgrids, EV TOU charge control are being built. Contact Cachelan with your system design to get an online NRGpilot™ portal for live status, history logs, lifetime data storage, reporting and control. Learn from the results to deploy larger scale implementations.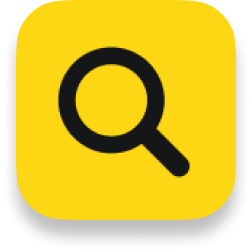 Owners of a portfolio of sites with SolarVu® or NRGpilot™ portals, receive a SMART Enterprise account for viewing status and performance of all their portals from a single login screen with navigation to each site for more details. Compare output power, energy generated, revenues and alarm status. Print detailed reports for any time period. Divide a large portfolio into subgroups for comparing similar locations or accounts.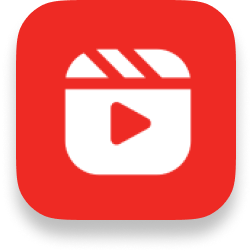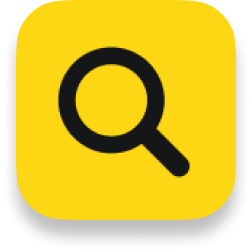 Manage Distributed Energy Resources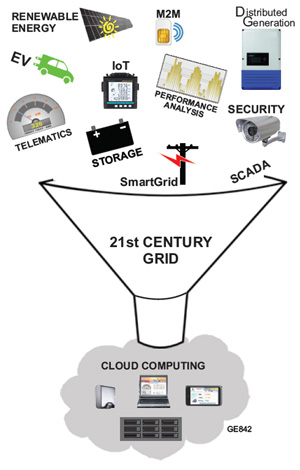 APPLICATIONS
SOLAR PV: status, alarms, reports
STORAGE: battery charging, monitor
MICROGRID: TOU control, critical loads
EV: control charge time, status
SCADA: manage DG, V2G, peak shaving